Fire Fall
20"x16" canvas wrap An excellent room accent, as an uplifting crisp sense of autumn. Amazing what you may find inside the lid of a 40yr old tool box left to the elements!
Beauty of Chaos
48"x36" canvas wrap A fiber optic display found dancing through an abused and discarded section of synthetic industrial material, as the spectrum of sunlight was absorbed. May we all become such conduits of light in this chaotic world.
The Rapture
24"x36" canvas wrap A rendition of the raptured saints as viewed from space. Glorified beings of light, leaving the dark earth behind. Taken from sunlight reflecting off of wet birdseed in a birdbath. The light overloaded the camera's sensor. Sometimes we must let go of control and let something beautiful happen.
Hope
24"x36" canvas wrap Morning light pierced through a nail hole of an old dark barn. The colors flooded my eye. A message poured in with it: Walk with God in the early morning hours, as did Adam and Eve. Remember the piercing and the nail holes of Christ's sacrifice. If your eye is single, your whole body is filled with light.
Between Two Worlds
24"x16" canvas wrap That place where we often find our thoughts and energies. Taken from a 6" section of abandoned machinery.
Moonlit Cove
16"x24" canvas wrap From a worn and cracked 2" section of industrial equipment. A sense of calm and nostalgic memories became my world for a moment.
Blue Buffalo
36"x24" canvas wrap I "met" Blue Buffalo in heavy Texas brush. Catching a glimpse of color contrasting under dry thicket, I pulled back the vegetation to discover the abstract animal design on the side of an old chest. The essence of the Old Southwest.
Dreamscape
36"x24" canvas wrap Amazing depth, color, and emotion. Original image was 90' vertical, 3" of chemical spill. "Sometimes an adjustment to the RIGHT is all that is needed!"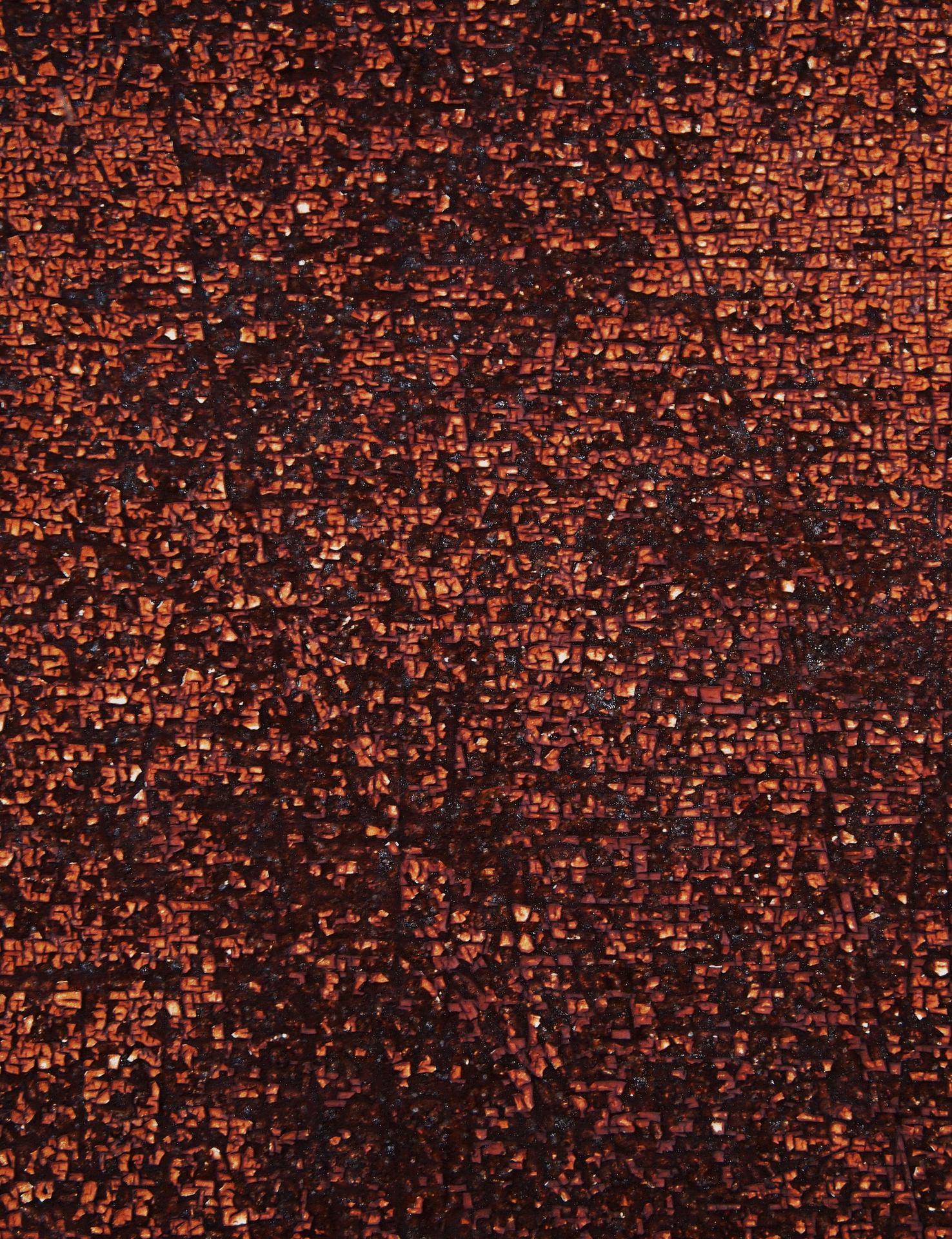 Tropism
36"x48" canvas wrap Sometimes a "hum" of color and tone set the mood of a room. This one has a 3D effect that draws in to see deeper layers.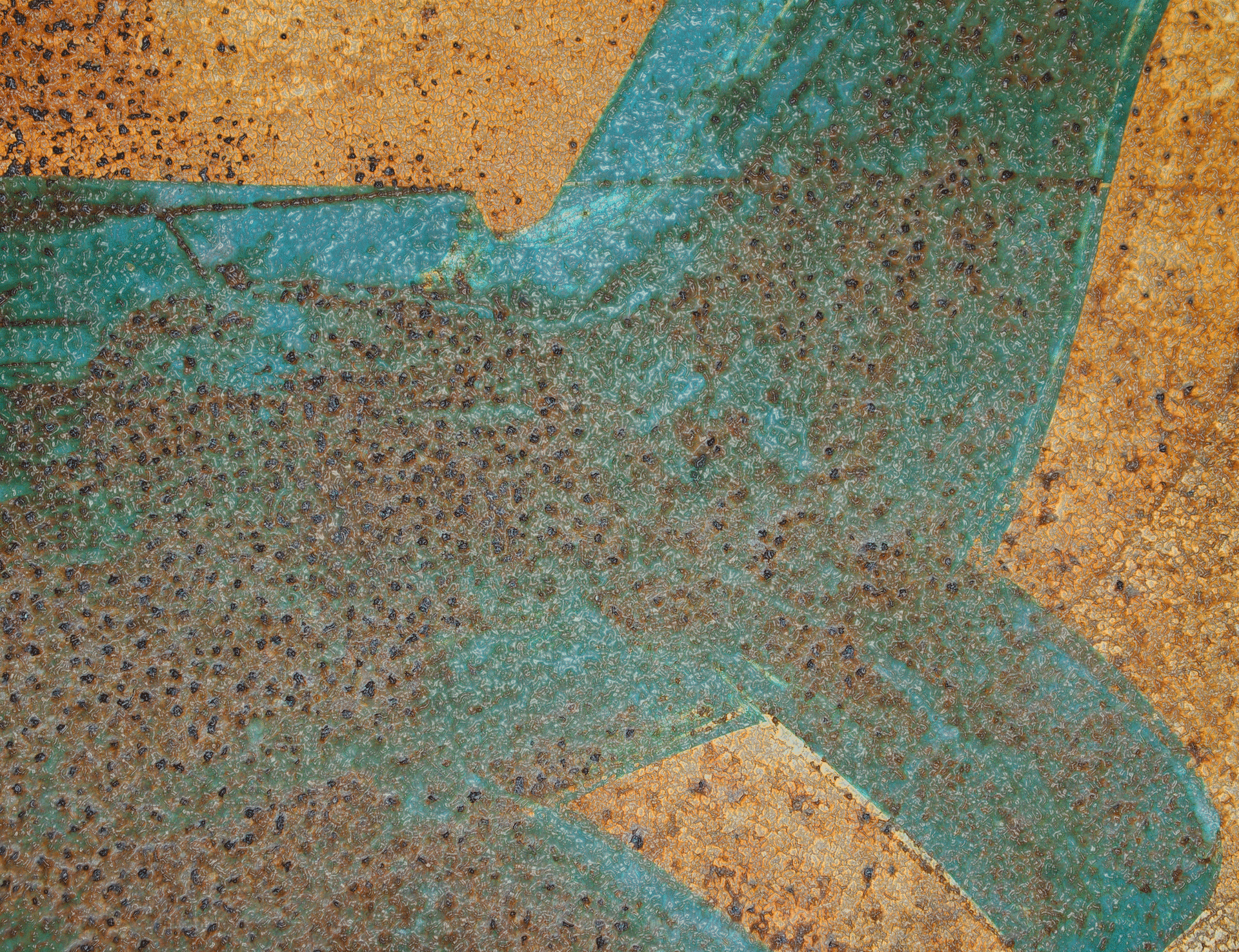 Blue Whale
48"x36" canvas wrap A section of lettering from an old sign doubling as a wall patch in an old barn. The gel coating has crystalized, rendering rich texture and interest. I was captured by the silent power and majesty of this image.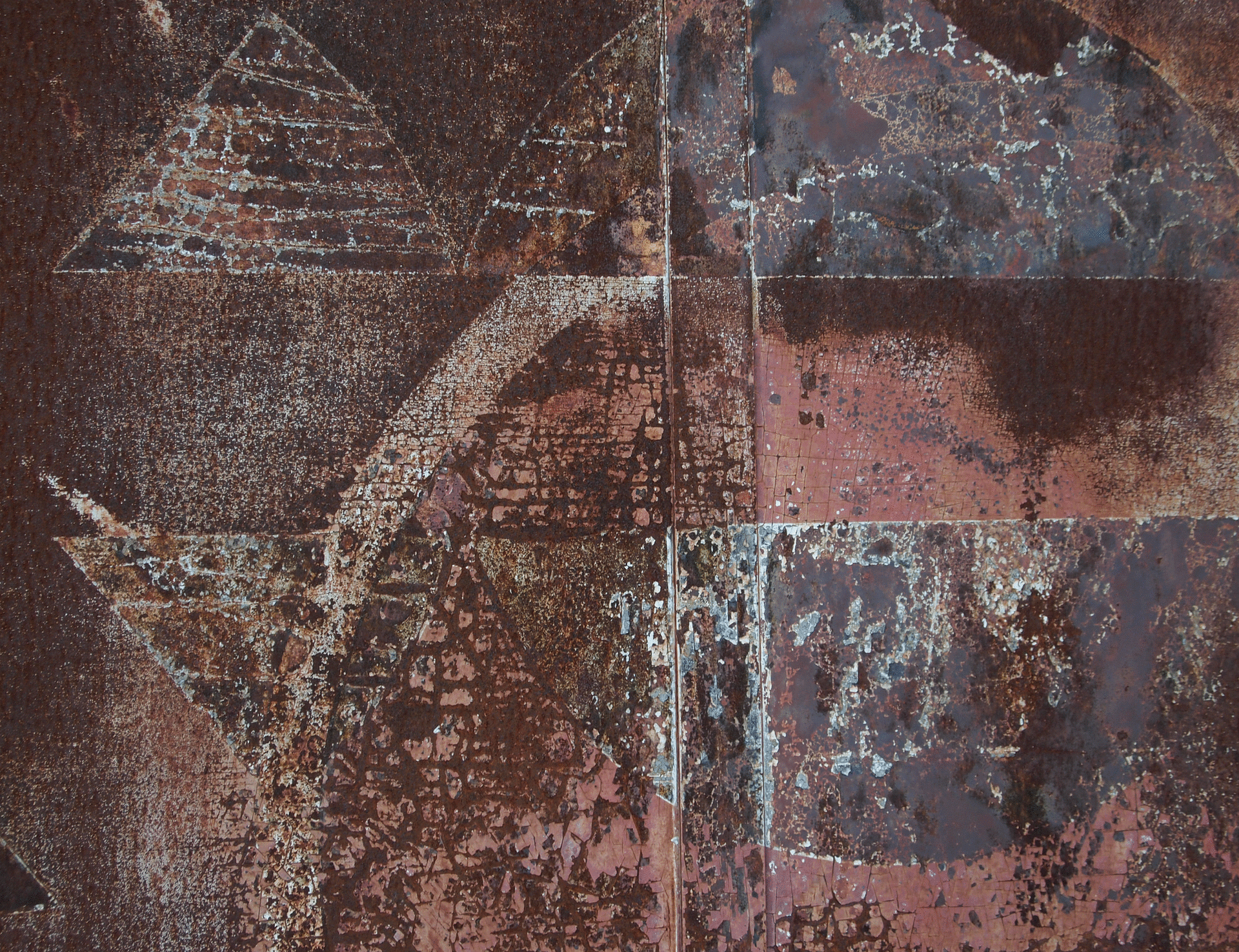 Timeless
48"x36" canvas wrap From the same abandoned 18 wheeler in a Texas junk field as "The Visionary", this pattern symbolizes the enduring essence of art.
The Visionary
36"x48" canvas wrap My 1st piece. The one that started it all. My youngest son, Logan, saw the abstract eye in this before I did. As a self proclaimed visionary, I thought it ironic. Taken from a 2" section of lettering on the side of a 50+ yr. old forgotten 18 wheeler.